Over the last few years, the iGaming market has undergone tremendous growth largely due to advances in technology and favourable regulatory developments. So in a new series of blog posts, we at BetConstruct will be taking a deep dive into the intricacies of the global iGaming market, providing you with everything you need to know about starting a successful business.
But first things first, what is iGaming? 
So, what is iGaming? In simple terms, iGaming - sometimes known as online gaming - is being able to play, or bet, on the outcome of a game or event via the internet. This includes, but certainly isn't limited to, sectors such as sports betting, online casino, online poker, slots and online bingo. 
But in order to set up an iGaming company, you first need to be approved for an iGaming licence. These come in two forms: a B2B licence (otherwise known as a Business to Business licence) and a B2C licence (Business to Consumer). 
Each individual gaming jurisdiction has its own set of conditions that you must meet in order to be able to operate. In this blog post, there are a few particular markets we want to shine a light on:
The United Kingdom
Regulated by the UK Gambling Commission (UKGC), the UK market is home to some of the strictest gaming regulations in the world. 
To be able to offer iGaming services in this market, there are three different types of licences: Non-remote, Remote and Ancillary. These can then be used to operate betting, casino, bingo, lottery games, gaming machines, gambling software and adult gaming services.
The United States
Following the repeal of the Professional and Amateur Sports Protection Act (PASPA) in 2018, states across the United States have been given the green light to permit online casino and sports betting activities. 
The licensing system is somewhat different from the UK, however, as the decision to legalise online casinos lies with each individual state. This has meant that while online casinos and iGaming are legal in some states - New Jersey, Michigan and Pennsylvania just to name a few - there are still a number of states where it is still illegal. 
Some of the most prominent regulatory bodies in the US include the Nevada Gaming Commission, the New Jersey Division of Gaming Enforcement (NJDGE) and the Colorado Division of Gaming. Each of these regulators are responsible for issuing the different types of sport betting licenses for individuals and businesses that meet licensing requirements, while also ensuring that all operators and suppliers are acting in accordance with the state's laws.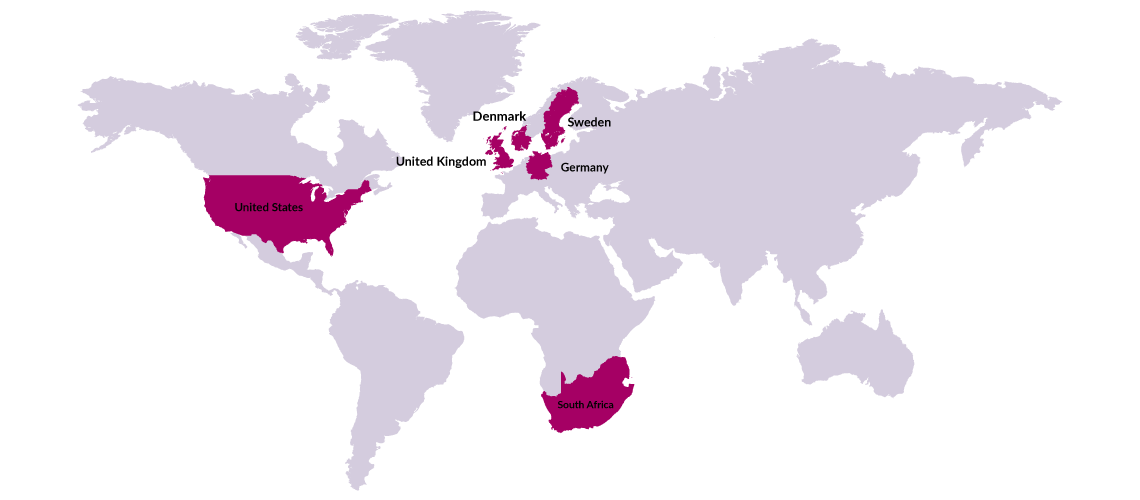 Sweden
Re-regulated in January 2019, Sweden has become a key market for iGaming companies across the world. But while there are huge swathes of potential for growth across the Swedish market, it is also one of the most strictly regulated markets in the world.
The Swedish Gambling Authority (Spelinspektionen) is the authority which ensures the legality, safety and reliability of the Swedish gaming and gambling market. In addition, the regulatory body helps to provide bettors with a range of different tools to protect bettors from the potentially harmful social effects that may arise from problematic gambling.
South Africa
South Africa is one of the most rigorously controlled iGaming jurisdictions, with each province across the country having its own gaming board overseen by the National Gambling Board. 
Across the nine provinces, the Western Cape Gambling and Racing Board (WCGRB) is the largest provider of online betting licences. The gambling boards in Guateng, Eastern Cape, Free Stage, Kwazulu Natal, Mpulanga, North West, Limpopo and North Cape also have the ability to issue licenses in their regions.
One thing to consider about South Africa is the provision of national licences; these tend to be reserved for those applying as a manufacturer, supplier and maintenance supplier or for those wanting to work within the gambling industry.
Denmark
The second Scandinavian country on our list, Denmark has been a powerhouse in the Nordic region largely driven by a combination of online casinos and sports betting - both of which make up for a €600 million iGaming industry. 
The country's gaming market is overseen by the Danish Gambling Authority (Spillemyndigheden), which issues licences for charity lotteries, sports betting, online casino, poker, gaming machines, land-based casinos and lotteries.
Germany
The German iGaming market opened up for business on 1 July 2021 following a thorough transitional period which began last October. 
The German Interstate Treaty on Gambling (ISTG) enables private operators to apply for licences to offer sports betting, virtual slot machines (online simulations of land-based slot machines) and online poker - with licences renewed every five years.
ISTG 2021 replaces the previous treaty which ran since 2012, with the most significant change being the lifting of the ban on internet gaming. However, one thing to note is that the regulation does include online casino games - however these are subject to restrictions, including spin and deposit limit, which will be covered in our next blog post.
Top licences and verticals popular in each market
Now that you've had a brief overview of the major markets in the global sports betting and gaming industry, you're probably wondering what types of licences are the most popular in each market. 
On a global level, sports betting is the most popular vertical, followed by casino, iGaming, skill games and poker. But does this differ within each market?
Starting with the UK, sports betting is arguably the most popular betting vertical - with many bettors enjoying a flutter on the football and horseracing. However, casino, live casino, bingo and poker all remain highly popular among gamblers.
In Denmark and Sweden, casinos and iGaming are among the two most popular forms of betting - however this isn't to say that players shun the sports betting markets.  
Jumping over to Germany and online slots and casino games have proven to attract a high engagement level from players.
The same high trend of engagement applies to online sports betting, with a survey from Goldmedia showing that 15% of players wagered on sports betting markets on a daily basis, whilst another 29% stated that they place bets on a weekly basis.
South African players have shown a preference for casino games, according to statistics from the National Gambling Board of South Africa which showed that the casino sector was the key driver for growth in 2019/20.
Casino is also the most popular vertical across the US, however this could change in the coming years as more states begin to legalise sports betting. 22 states have already introduced a regulated sports betting framework, with more constantly joining the legal sports betting club.
One thing to note is that there are different licences available for each vertical - spanning sports betting, casino, live casino, skill games, poker etc. One licence does not cover all verticals. For example, a sports betting licence will not permit you to also offer casino games - and vice versa. 
You may be required to obtain a certification from organisations such as Gaming Laboratories International (GLI) which provides independent testing and inspection of electronic gaming products to ensure fairness and transparency for bettors.
In our next article, we will be delving further into the top six regulated online gambling markets and why we believe these are the places to start your iGaming business. 
Important Resources

https://www.gamblingcommission.gov.uk/statistics-and-research/publication/industry-statistics-may-2021
https://igamingbusiness.com/german-gambling-market-could-grow-to-e3-3bn-by-2024/
https://www.pwc.co.za/en/publications/gambling-outlook.html
https://www.spillemyndigheden.dk/en/statistic/q2-statistics-2021