Online gambling, or iGaming, has become an increasingly popular form of entertainment in recent years. It has a long history behind its back, from starting on a small and uncertain ground to becoming one of the most popular and profitable businesses worldwide.
This growing interest and popularity around the market has happened because of several factors. For a start, the rise of technology and the internet has made experiencing the thrill of exciting casino games and sports betting accessible to everyone. There is no need anymore to visit land-based casinos and betting shops to engage in the fun; people can now do it from the comfort of their own homes.
Another major change in the market occurred because of the unexpected pandemic. Everything was closed down, including land-based casinos, and people have found new outlets to keep their engagement levels up. As a result, an already well-respected and regulated market has earned a higher wave of newcomers during the last three years.
Now, when getting familiar with this prosperous market, many people may have one question - what is iGaming? And whether you're an experienced operator or an occasional player, there's still a chance that you don't know how far the borders of iGaming stretch.
So, let's explore the ins and outs of iGaming, including its history, the challenges and technological updates it gets, and the various gaming regulations that govern the industry in this comprehensive guide.
What is iGaming?
So what is iGaming? When defining the term iGaming, it's important to note that it can fall under two terms - narrow and wide.
iGaming definition in a narrow term is any form of online betting and gambling activity in a game of chance. Every type of online game of chance operating on the internet can be classified as iGaming, including Live Casino games, Video Slots, Lotteries, Sports Betting, and more.
In a wider sense, iGaming is a large industry of multi-faceted establishments, stretching from businesses that create online casino games to software providers offering operators ready-made casino software solutions, sportsbook platforms, management tools and more. iGaming, in a wide sense, is a huge industry worth up to $61.5 billion per year and spread all across the world. And though it has different regulations and restrictions depending on the region, the iGaming industry still has a huge following of players from every country where online gambling is legal.
However, it wasn't always like this. The iGaming industry has come a long way and without knowing its past, we can't truly grasp its current success. So let's jump back a little and see how it all started.
The History of iGaming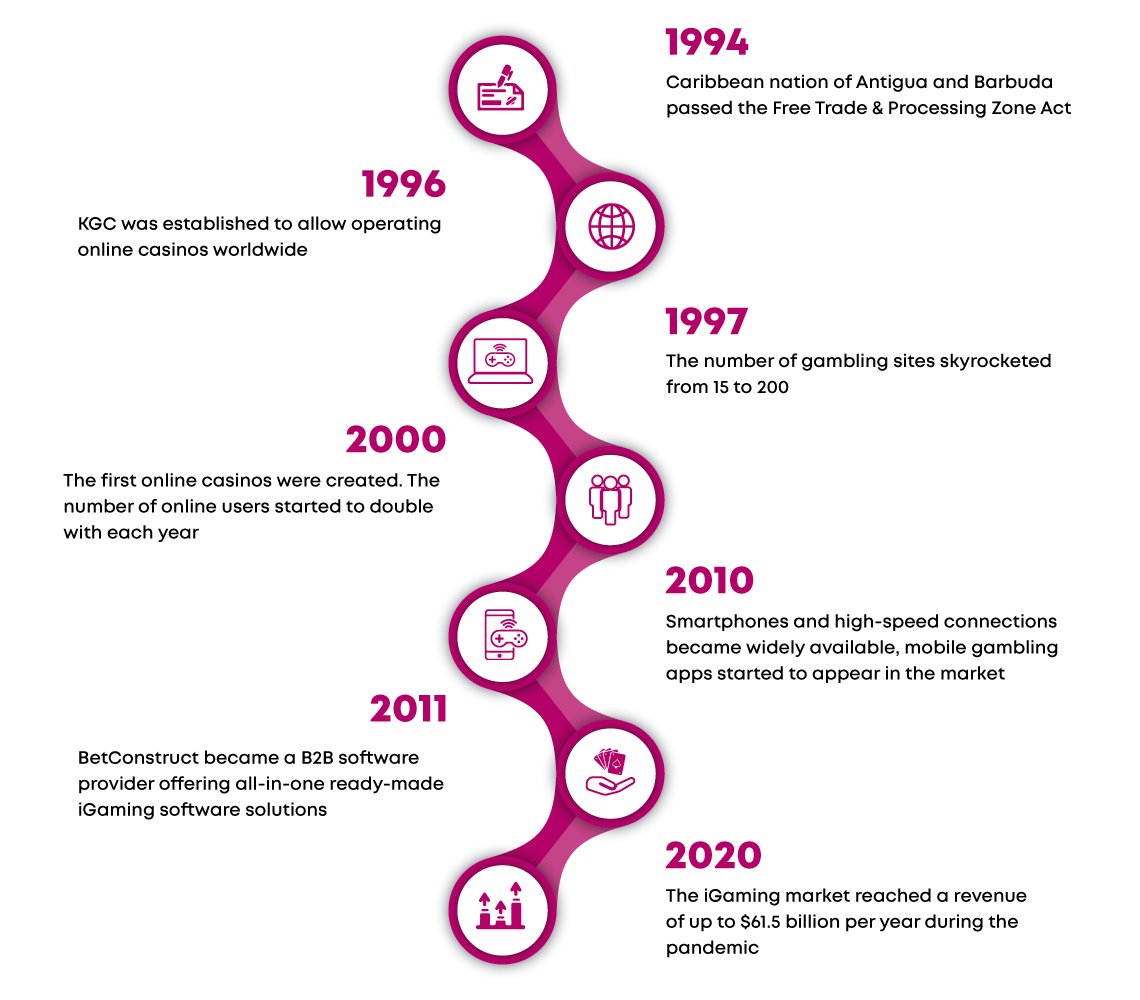 The creation and growth of iGaming are closely connected to the technological advancement of the internet. The birth of the world wide web has truly changed how many businesses operate and has surely left a big mark on the gambling world.
Several profound events have helped shape today's online casino industry, so we need to dig deeper to understand the iGaming market phenomenon.
It all started in the 90s when the internet became commercially available. However, back then, online security and privacy were still non-existent, making safe online payments impossible.

In 1994, the Caribbean nation of Antigua and Barbuda passed the Free Trade & Processing Zone Act, which enabled companies to apply for licences to open online casinos.

Two years later, the Kahnawake Gaming Commission (KGC) was established to licence online casinos worldwide. Within a year, the number of gambling sites skyrocketed from 15 to 200.

In the late 90s, the first online casino platforms were born, and so the early 2000s were established as the golden years of the online gambling market.

The number of online users started to escalate very quickly, doubling every year between 2003 and 2006.

The early 2010s marked another pivotal event in the industry with the arrival of smartphones and high-speed connection. iGaming companies quickly realised the new potential it could give to their offerings and started to produce multiple mobile casino apps.

At the same time, in 2011, BetConstruct became a B2B software provider offering ready-made iGaming software solutions,

sports betting platforms

, management tools, security methods and more to everyone wishing to open their own online casino platform.

Today's iGaming industry continues to evolve, opening up new horizons, introducing innovations and constantly changing the iGaming definition.
How Big is the Current iGaming Industry?
As we mentioned above, one of the most important events that have shaped the current iGaming market was the unexpected pandemic. It has changed everything in the world, impacting every market and business out there, and the iGaming industry was no different.
Because of the COVID-19 pandemic, all the usual wagering places like land-based casinos, betting shops and other gambling halls were closed, and so players had to find another source of entertainment. This has resulted in a spike in the popularity of online gaming platforms.
Another aspect that has changed the iGaming definition worth mentioning is the variety of mandatory regulations in different countries and regions. Although online gambling and betting is an extremely profitable and popular business, it's also a highly regulated one. That's the reason why iGaming has different advancement levels in different countries. Let's discuss this phenomenon a little more to understand them better.
iGaming Regulations
Online casinos have brought up a new level of globalisation. As opposed to brick-and-mortar casinos that were regulated by the laws of their location, online casinos have wider accessibility all across the world. This means that an iGaming platform created in a certain country can be available to players from different countries. For this reason, countries have established various iGaming regulations and laws to control the activity of online casinos under their authority and provide safer options to players.
Today, online gambling is legalised in many countries, but they need a licence to operate in countries just like land-based casinos legitimately. Those geographical locations are recognized as regulated markets that help to keep online gambling under government control.
Unfortunately, the online gambling business is still banned in multiple countries which halts the popularisation process of iGaming in lesser developed markets. This is one of the toughest challenges that the current iGaming market faces.
For example, some US states still prohibit multiple forms of online gambling, while others have already made positive changes to allow secure online gambling.
The European market seems to be a little ahead of the US and Canada. Many European countries have adjusted their laws and regulations to get a part of this prosperous industry.
As a result, the current iGaming industry is more and more emerging in popularity with each passing day.
The iGaming market has also made a pretty significant impact on the technological sphere. It constantly challenges the industry norms and brings innovations to change the game and the user experience drastically. Therefore, it's important to be aware of the most important technological advancements that the iGaming market has achieved in the later years and the growth it will experience in the future.
Technological Growth in iGaming
The iGaming sector is set to experience phenomenal growth over the next decade, thanks to remarkable technological advancements and innovative solutions that appear every day. Even though the industry has undergone enormous progress in the last ten years, it is still expected to become even more popular in the coming years.
Various market-shaping events have resulted in the fast spike in the popularity of iGaming, many of which are closely connected to technological advancements and innovations. However, some of those alterations have already been marked in the iGaming history as more than just a trend. These cutting-edge technologies are set to revolutionise the online gambling market, and we need to examine each one closely.
Streaming and Social Media
Social media and streaming platforms have drastically changed the overall gaming world and the opinions surrounding it. Streaming gives users the chance to watch their favourite streamers try their luck in real-time and experience the excitement of the game with them.
iGaming businesses and operators, of course, have swiftly grasped this chance to spread the market's popularity in new channels. Now, thanks to influencer marketing and streaming campaigns operators can attract wider audiences and traffic towards their games and offerings. The secret of this rising popularity is that streamers choose slots with frequent bonuses and generous payouts that allow them to show real emotions and excitement during the live streams, and viewers love to see them. Now it's impossible to think about iGaming marketing without taking into account social media platforms like Twitch, Facebook, Instagram, YouTube, Reddit, and Twitter.
However, it's worth noting that not every streaming platform allows gambling ads. In 2021, Twitch banned clips and broadcasts featuring promotional codes and referral links to gambling sites, but casino streaming still has a place on the platform. So, it's likely to expect social media and streamings to continue being a crucial part of traditional iGaming marketing.
Blockchain Technology

The advancement of blockchain technologies has become another game-changer in the iGaming world. Before the blockchain revolution, the main concern of many users was the slow transaction speeds of their funds. Previously, players had to wait for hours and even days before their deposits and withdrawals would become available in their wallets. But leading online casinos were ready to solve this problem with crypto platforms.
There are two types of online casinos regulated under blockchain technologies in the current iGaming market:
Crypto casinos

that have integrated crypto payment systems into their

crypto iGaming solution

to operating in established cryptocurrencies, like Fasttoken(FTN), Ethereum(ETH), Litecoin(LTC), and Bitcoin(BTC).

Blockchain casinos

that operate without third-party involvement and make transactions between the users and casinos directly from their crypto wallet.
Either way, crypto integrations in online casinos have caused exceptional user experience and player protection results, so its popularity will only rise in the following years.
Virtual Reality
Although online casinos are considered a more inclusive, available and comfortable version of brick-and-mortar casinos, some players still like the experience and atmosphere of land-based casinos. This is where VR and AR technologies can save the day.
Although Virtual and Augmented Realities are still in development, they carry the greatest potential for future iGaming games. In their essence, VR and AR technologies allow adding that vibe of real casinos that online casinos still lack. And with the growing popularity of Metaverse, it's expected to become the new norm in the future.
Gamification
The gamification process adds extra game elements and opportunities that add new levels of engagement and fun to classic online casino games. These mechanics are used to keep users' interest in the game and increase its retention rates.
Operators use different tactics to boost gamification levels, some of the most effective being:
Tournaments

that allow players to compete with each other and receive prizes for top results.

Character selection

that allows players to connect with the game on a more personal level by creating a character that accurately represents them.

Quests

and

daily missions

that allow keeping the games more challenging and engaging.
Whatever mechanics you choose to integrate, it's important to make sure that they correspond with your players' needs and requirements.
5G Technology
HTML5 technologies create the majority of today's slot games. Those types of slots are low-sized and require a small amount of time to load. However, game providers use fresher, 5G technologies that can optimise 3D games.
5G technologies are rather a new addition to the iGaming market. They help to make the gaming experience smooth and fast while providing high-quality visuals and new game mechanics. And though 5G technologies still have a long way to go before being available for mass usage, operators and game developers should already have a huge offering to meet the market demands.
Esports Betting and Video Games
Esports and video games have already crossed the borders of being just a leisure option for young audiences. Now video games have earned their well-deserved place in the iGaming market, having dedicated esports betting software and marketing strategies that accurately conform with them.
Numerous Esports tournaments, different cyber sports teams worldwide and a huge fanbase make video games and Esports a popular and profitable entertainment method for online casinos. Therefore, having a separate section for cybersports tournaments on your iGaming platform is crucial.
Lastly, there are annual iGaming events all over the world to show the innovations the iGaming business can bring to the table and popularise it in lesser-known markets. Therefore, it's only fair to list some of the most important iGaming events you should keep a tag on.
Major iGaming Events
As we mentioned above, iGaming events and expos are a perfect way to introduce your innovations to the world and bring change to the markets. Furthermore, they provide a great networking opportunity and interaction with potential clients and collaborators.
Usually, you can find various groups of people at those events - from executives and stakeholders to software providers, game developers, marketing affiliates or even casual players. However, several annual iGaming events gather every big name from the iGaming world and turn the event into a real iGaming celebration.
The top 3 of those are:
ICE London

- being one of the most important events in the iGaming world, ICE London is the biggest conference that marks the start of the iGaming calendar year. Held annually in London, the conference gathers all industry leaders and influencers under one roof - attracting more than 30.000 attendees and 450 speakers from different backgrounds. It's the not-to-be-missed event for every iGaming authority, as it provides the perfect environment for networking and finding new collaborators.

SiGMA

- holding several expos and conferences during the year, SiGMA is one of the main online gambling authorities worldwide. It brings stakeholders, innovators, software providers and game developers together to discuss market news, introduce innovations and share ideas. More than 15.000 participants gathered together during the three days of the conference.

SBC

- dedicated to C-level executives, SBC or Summit Barcelona is the one place to be for all industry veterans. The event is held exclusively for industry leaders and helps to get powerful connections and get ahead of the game together. More than 6000 company chiefs, 2000 operators and 350 speakers are attending the summit each year.
Conclusion
The technological advancement of the internet has made online gambling accessible to everyone, and the pandemic has led to a surge in popularity, making the industry worth up to $61.5 billion per year.
Thanks to the advancements in technology, the iGaming market has become accessible to players all around the globe from the comfort of their own homes. From live casino games to sports betting, lotteries, and more, the current iGaming market has become a multi-faceted industry with different regulations and restrictions depending on the region.
Understanding the history, challenges, and regulations of iGaming is crucial to grasping its current success and future potential. So, whether you're an experienced operator or an occasional player, understanding the iGaming definition is a key step in exploring the exciting world of online gambling and becoming a leader in the sphere.
Hopefully, now it's easier for you to grasp the whole concept of the iGaming market after our blog post!