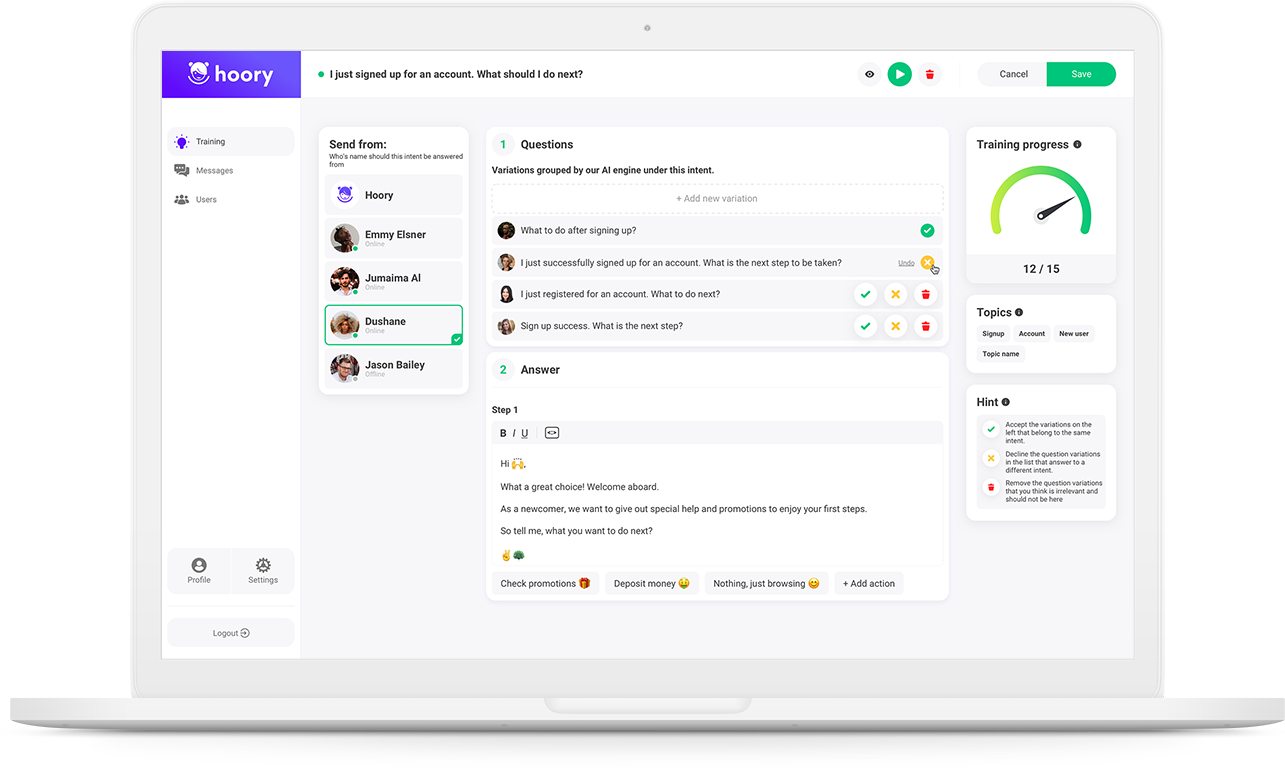 Hoory is an innovative AI-powered support assistant designed to streamline customer communications and alleviate the challenges associated with customer service.
Operating 24/7 with zero delays, Hoory ensures a flawless user experience, eliminating the frustrations commonly associated with customer service interactions. This cutting-edge tool empowers businesses to establish an unparalleled customer service system, delivering efficiency and cost savings.
Meanwhile, Hoory enhances the experience for support agents by facilitating seamless communication through its shared inbox feature.
Hoory offers your business a gateway to the future of customer service, allowing you to harness the capabilities of conversational and generative AI, machine learning, and natural language processing.
At Hoory, we understand the challenges faced by businesses in managing customer inquiries effectively and efficiently. Hence, we have developed an intelligent support system that harnesses the power of artificial intelligence and machine learning.
Our AI-fueled technology allows you to automate repetitive tasks, provide instant responses, and deliver personalized experiences to your customers.
Main Features
AI Assistant
With the help of the trainable AI assistant, you can take your customer experience to new heights. By telling everything about your business, the AI assistant will take charge of repetitive customer queries, ensuring a high level of customer satisfaction 24/7.

 

Omni-Channel Inbox

The omni-channel inbox allows you to centralize messages from various channels into a single, easy-to-navigate inbox to stay connected and track all conversations from a bird's-eye view.

 

Multilingual Support


You can communicate with your customers in 100+ languages in a single dialogue. Multilingual support expands your customer service around the world and excludes language barriers.

 

Workflow Management 


You can manage support operations by automating existing workflows. With the help of automation rules and macros, you can create custom action sequences and execute them with one click.

 

Advanced Reporting and Analysis 
Hoory's insightful reports help you achieve a deeper understanding of customer behavior. You can also track team performance and unlock powerful strategies to enhance the efficiency of your support team.
*Available in your local currency or cryptocurrency