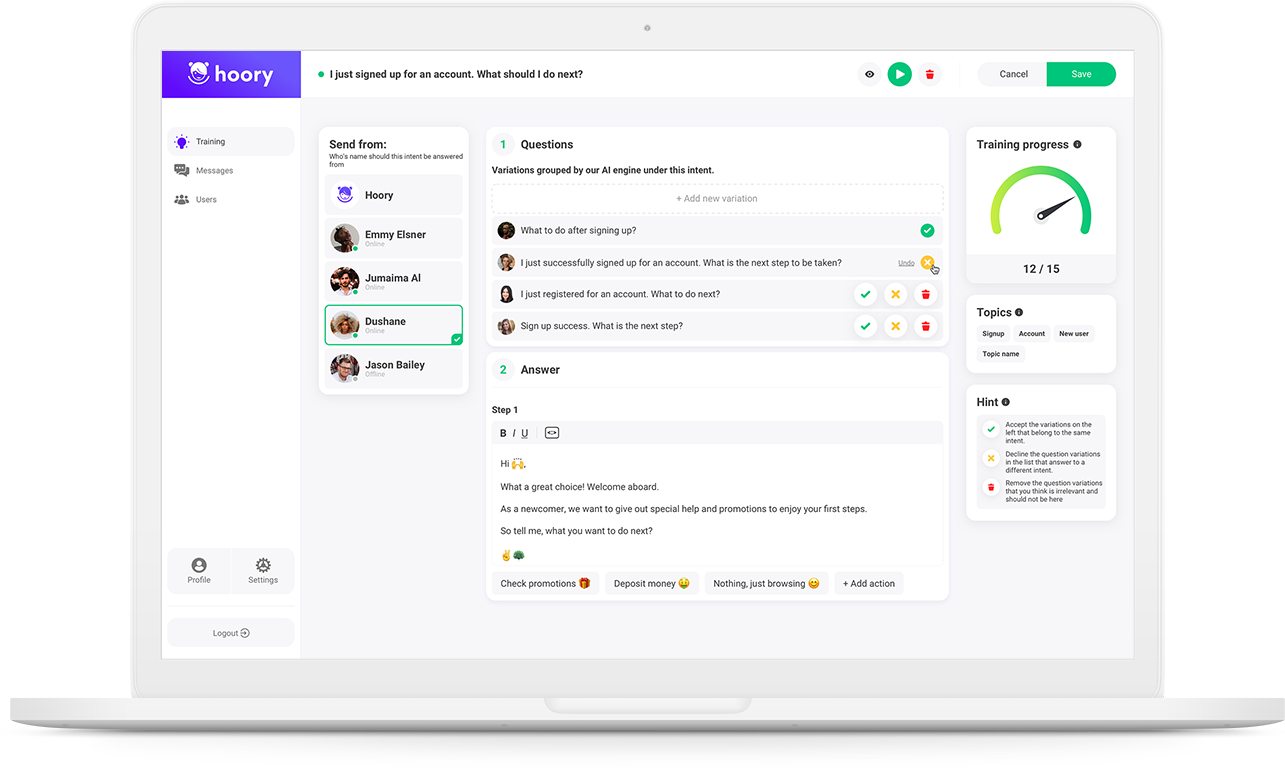 Hoory is a next-generation AI-powered customer support assistant that fully automates client communications and provides 24/7 online support with zero delays - turning every interaction into a perfect user experience on your platform.
Powered by conversational AI, machine learning, and natural language processing, Hoory goes beyond just automation. It can fully grasp customer intent, providing relevant answers to the most specific queries where necessary. Hoory is a multi-faceted addition to any business with an online presence, saving time and resources while simultaneously increasing customer satisfaction and loyalty.
Doubling up as a shared Inbox, Hoory gives your support agents a seamless way to communicate with customers and provide them with top-tier experience and guidance.
KEY FEATURES
Inbox: Manage all of your customer interactions via a single interface.

- speak to your customers directly in real-time and keep track of all customer interactions;

- define high-priority conversations and queries, allowing your agents to take over them from your AI assistant;

- access customer conversation histories and data, including (but not limited to) contact information, location, and other key information;

- analyse user browsing history and behaviour to get a better understanding of their journey on your website/platform;

- filter conversations by tags, query status, assigned agents, location, and more;

- organize conversations by adding tags and notes

- mark high-priority conversations or customer interactions with a star to establish a more concise workflow for you and your support agents.



Training: Train your AI assistant to provide accurate and relevant answers to customer queries.


- identify common customer queries and teach Hoory to offer automated responses for each question;

- render dialogue more interactive and concise by adding buttons, links, and images;

- personalise each interaction by allowing Hoory to refer to customers by name and reference other attributes they have shared on your platform (age, gender, location, etc.)



Knowledge Base: Allow Hoory to crawl your website and analyse readily available information to provide accurate responses.



- provide informative and accurate responses to standard questions through Hoory's website crawl function;

- create an internal knowledge base that generates responses based on content already available on your website.

 

Team Collaboration: Invite your support team to utilise your AI assistant together.



- turn customer support processes into a collaborative effort by inviting your team to work alongside Hoory;

- manage individual permissions and assign tasks to team members most equipped to handle particular queries.



Customisable Widget: Style Hoory to match your brand identity by personalising your assistant.

- pick an avatar and choose a colour scheme that reflects your brand's identity;
- preview your masterpiece before publishing it to ensure you have all the details.


Speech Recognition: Provide your customers with more communication options by having your AI assistant effortlessly convert speech to text and vice versa.

- unlock the convenience of two-way communication with your customer support assistant;
- give your customers the flexibility to switch between voice messaging and
texting through the Speech Recognition feature.



People: Segment your customer base with advanced filtering options. Locate your target audience based on availability status, first or last name, location, and more.



Forms: Collect information and insights from users by sending out custom forms. Interpret key data to deliver the best possible experience.


Omnichannel Platform: Provide exceptional customer service across all channels and touchpoints. Send outbound emails from different domains, receive and manage emails, and send through your all-in-one AI assistant.



Internal Notes: Click the toggle switch and allow your team to collaborate behind the scenes while your customers enjoy a smoother and more personalised experience.



GPT-3.5 Integration: Combine Hoory's AI knowledge base with our ChatGPT integration to provide the highest level of accuracy when answering customer queries and making interactions more conversational.
*Available in your local currency or cryptocurrency