An AI assistant for a fully-customisable customer experience.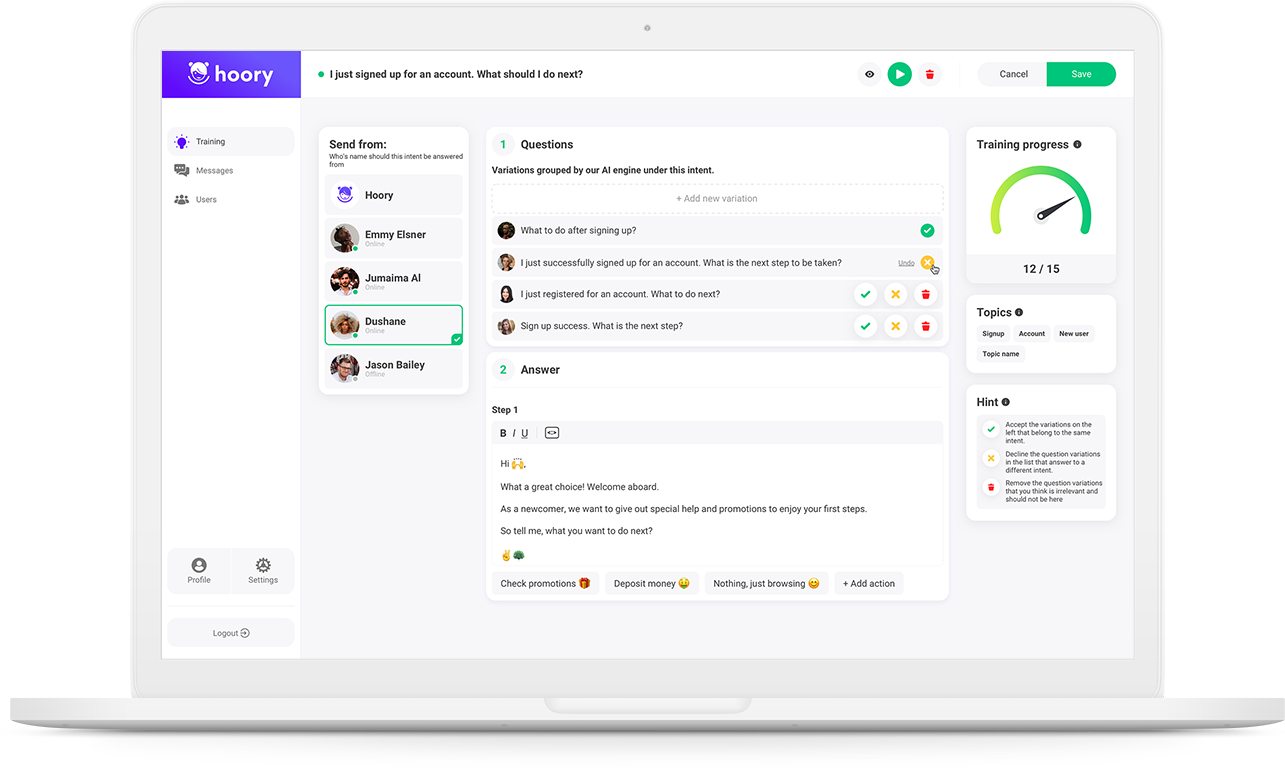 It's not easy to manage different website features across various platforms. We've created an AI platform that lets you manage all user interactions in one place and Hoory does the rest.
Who is Hoory, you ask? Hoory is a virtual assistant that provides automated customer support to your website users. You can teach Hoory anything, from small talk about the weather to more complicated activities, such as making a bet. Once the bot is trained, it can go straight into action. Hoory gathers data from conversions with your customers and, with your guidance, improves over time. 
What kind of information does Hoory want to know? It keeps track of the different ways customers ask the same question. For example, 'how old are you?' and 'what's your age?' are different variations of getting to know someone's age. Hoory analyses the question variations, grouping similar questions together. You can find these groupings in the Workspace Admin. In Workspace Admin, you may also train your Hoory to provide answers in any way you'd like. Hoory has built-in questions and answers already provided, and you can choose to grow its repertoire with new training phrases. You can add an image, insert links, emojis, follow-up actions, and more!
KEY FEATURES
Provide instant support to your customers by directly accessing the conversations between your customers and Hoory. 
Create an enjoyable experience during the conversation by sending intuitive messages with clickable and entertaining elements. 
Grow your business by letting Hoory seamlessly lead customers through a series of customisable questions to a specific action. 
Improve user experience through behaviour analysis to augment your business solutions.
Train your Hoory together with your team. You can invite all your team members to join in on the fun!