Offering free spins and bonuses as part of welcome packages for new players has been online casinos' regular strategy for years. But how is your casino supposed to attract players with giveaways at minimal cost? That is the objective in question. To tackle it, we have come up with the idea of a free spin and bonus calculator. We have actually created a template to help you calculate and see if your online casino bonus system justifies your investments.  
Free spins: The Cost Calculation Formula
Here is a formula to demonstrate how it works:
Free Spins Cost = House Advantage  (HA) - # of spins X Spin Amount X # of Players
For example, if you give away 50 free spins, the minimum average being  €0.1 for each, the cost per player will amount to €5 minus GGR/Gross Gaming Revenue (say, approximately 3% for slots) equating to €4.85. Normally, the player will win back 100% minus GGR% off each stake, with you having set a 30X wagering requirement. Now, let's suppose the GGR is 3%, and you expect 500 new players with an average €50 deposit per player.
If the player meets the wagering requirement and can withdraw the money, your online casino definitely gets revenue. The free spins' cost will equal the average amount the player can win back, minus the revenue your online casino made while the player was spinning (HA House Advantage).
N of FS for 1000 players  50,000
Free Spin Value €0.1  
HA 3%
WR =30
Total FS value = 50,000 x 0.1 = €5,000  
Bonus Money = 5,000 x 97% = €4,850  
HA = 4,850 x 30x 3% = €4,365  
Cost = 4,850 - 4,365 = €486  
The cost for all 1000 new players equals €486.
Read Also: How to Start an Online Casino?
Free Spins: Data You Need for Cost Prediction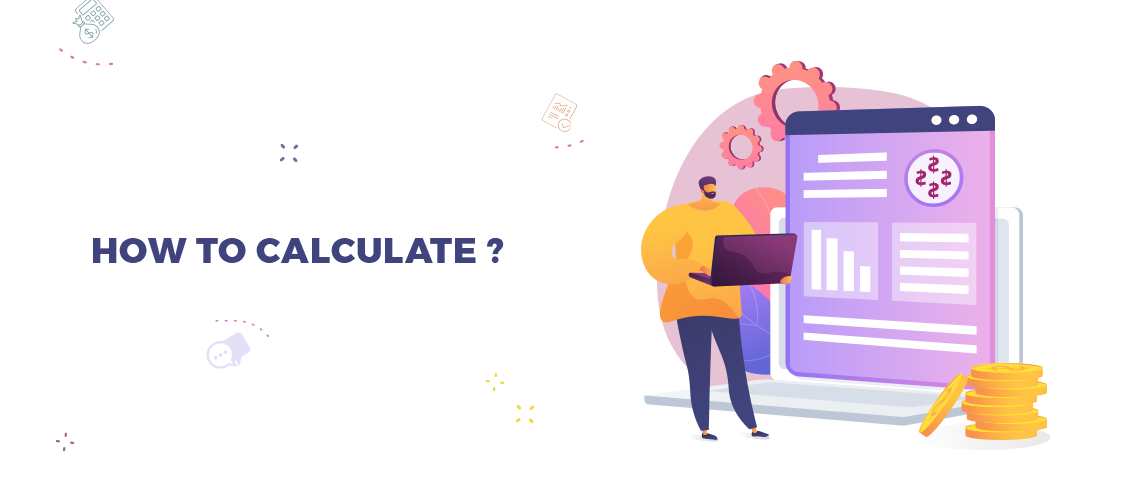 1. The average GGR in the case of casino games with free spins
How to calculate:
You are supposed to know the GGR for each game. Alternatively, you can find more information in your agreement with your game provider or any other relevant official documentation. Keep in mind that not all the games are played to the same extent. So, evaluate each game and specify coefficients according to your previous time data obtained from your backoffice.
2. The number of free spins per player
How to calculate:
Multiply the number of free spins by the minimum spin cost. Next, multiply the resulting value by the expected number of players who are likely to claim that offer.
3. The wagering requirement  
A wagering requirement is a multiplier that represents the number of times a player has to play using bonuses before being able to withdraw any winnings.
For example, a player has been given a €20 Casino bonus with a 10X wagering requirement. This means they will need to spend €200 on eligible games before they can withdraw any pending winnings. The organiser of the promotional offer sets the wagering requirements.
Free Spins: Bonus Terms Affecting the Cost
Igaming marketers usually claim that online casino marketing is way different from any other industry. Marketing for online casinos features quite a few characteristics. These include promotions that online casinos offer with the perspective of winning and retaining new players.
To a retailer or a travel agency, it must be as easy as ABC to calculate the actual costs of giveaways. It only takes 3 minutes to establish how much it would cost to give away 50 iPhones or a vacation package. But things are different in the igaming industry.
Calculating the actual cost of the 50% off the first deposit bonus or €20 free spins (with a lengthy list of instructions on how to use it) can be a bit tricky for a marketer. It requires decent mathematical skills. This is where Free Spins cost calculation template comes in handy.
Before launching and announcing a campaign, every marketer should have a clear understanding of the best and worst possible scenarios.  
The cost prediction of free spins is to be calculated on the basis of the expected number of new players and the average deposit value. The rest of the numbers required for the calculation are already known.
Setting the wagering requirement is crucial, as it directly affects the cost of the free spins with high leverage.
Now, let's see what happens when you change the wagering requirement for the initial €5 free spin.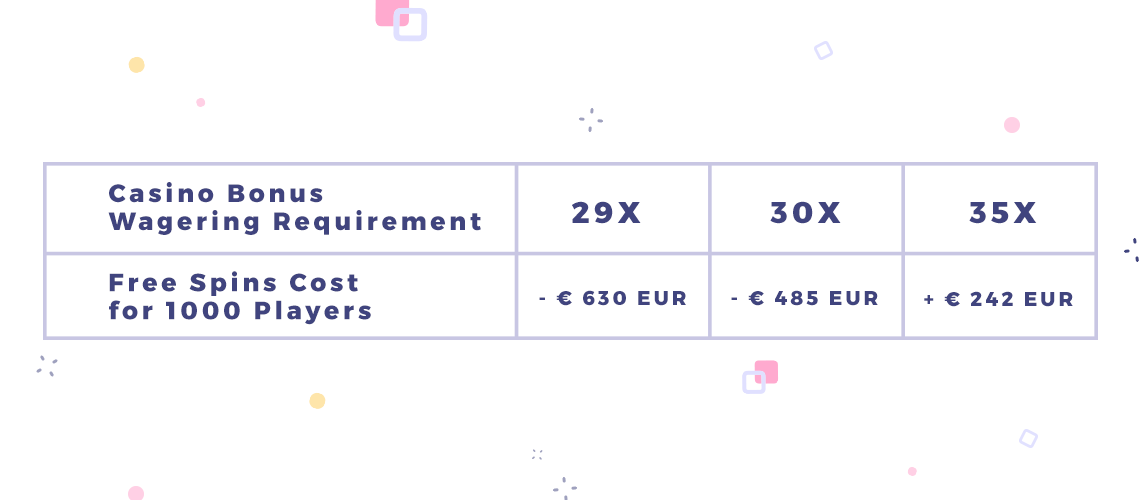 When you set the wagering requirement to 29, the cost will be 630 EUR for 1000 players. Setting the wagering requirement to 35 will result in no cost and even generate 242 EUR revenue.
*for 1000 players with 50 free spins €0.1 each
Calculating the Actual Cost  
The actual cost of every promotional campaign is subject to calculation once the campaign has been completed. Alongside other costs, it is also necessary to assess marketing team efforts in terms of campaign efficiency and ROI. Ever mindful that it is critical to have a certain prediction about the best and worst possible scenarios for every campaign before launching one.